BE THE CHANGE
At Tezenis, we constantly strive to generate positive changes in the environment around us, even the simplest process is geared towards a more responsible future for fashion.
The projects and actions that allow us to combine a strong creative drive and innovate towards sustainability, start from this goal.
A term, that for us indicates not only a conscious choice of fibres, but also the reuse of production waste, the use of recycled paper in packaging, as well as the attention to lower water consumption and a consistent reduction of CO2 emissions.
Our challenge is to develop even better products through the search for virtuous production processes, because through our present and future commitments ,we want to participate in change.
Be The Change!
Tezenis data

kg of CO2e less in 2020 thanks to the self-production of energy through our photovoltaic systems

kg of CO2e less in 2020 thanks to the use of electricity from renewable sources (for 50%)

kg of plastic saved in 2020 thanks to the use of recyclable and recycled paper bags for online purchases

of Tezenis production is created and controlled in our factories to guarantee the best quality / price ratio

of the shopping bags made of recycled and recyclable paper

reduction of water consumption in our water intensive production processes
The collection that takes care of sustainability
This lace's polyamide is 100% recycled, obtained by the reworking of pre-consumer textile waste.
The cultivation of this fibre assures to save water, not use harmful pesticides, and respects workers' rights and the land.
The yarn is produced starting from recycling synthetic materials and this process allows for the reduction of waste and emissions.
Traceability of the supply chain
The majority of our items are produced internally, this allows us to have good control of the supply chain and the maintenance of the good's value for money.
Starting from today, you can explore our production plants.
Our commitments
100% recycled and recyclable shoppers
We have chosen to replace plastic shopping bags with new shopping bags for the shop and for online sales created with recycled and recyclable materials, thus reducing the consumption of plastic by up to 10 tons.
Socks in recycled cotton
socks made of recycled cotton and polyester according to a virtuous example of circular economy which, starting from pre and post consumer textile waste, allows to give new life to fibers and create new yarns.
Electricity from renewable sources - reduction of CO2 emissions
reduction of 870 tons of CO2 emitted into the atmosphere thanks to the self-production of electricity from our photovoltaic systems and of 27,000 tons of CO2 thanks to the use of energy from renewable sources.
Sustainable collection
more than 50% of the collection in stores will be made with materials that have less impact on the environment: organic cotton, recycled microfibre, sustainable viscose and recycled lace.
Reduction of CO2e emissions in the world
we are committed to reducing our greenhouse gas emissions into the atmosphere by extending the number of countries where we only use electricity from renewable sources and avoiding up to 27.000 tons of CO2e per year.
"Let's pollinate Europe" 3BEE project
the "Pollinate Europa" project was created in collaboration with the agritech company 3Bee and provides for the adoption of hives to protect bees, support beekeepers and protect biodiversity. In fact, bees are responsible for over 80% of the food chain and preserve our ecosystem. Each Tezenis tech hive will protect 60,000 bees which will pollinate 60 million flowers. Each customer will be able to contribute to the growth and protection of hives through their constant remote monitoring.
"Together for the Mediterranean Sea" with Marevivo
"Tezenis started a special collaboration with Marevivo, the association that, since 1985, safeguards the sea and the environment.

The project "Together for Mediterranean Sea" aims to clean our Sea from plastic waste to grant an increasingly plastic free future."
NEW BALCONETTE WITH RECYCLED MICROFIBRE
Tezenis launches the new PARIS balconette bra made with ECONYL® regenerated nylon. The model contains ECONYL® nylon, a material that has the same characteristics as the original nylon but which can be recycled and remodelled endlessly.
BE MORE SUSTAINABLE, BE THE CHANGE
Join the change: choose the Be The Change underwear sets made with lower environmental impact fibres.
Most of the collection will use low climate impact materials
In 2025 Tezenis is aiming to offer products made with organic cotton, recycled microfibre, sustainable viscose and recycled lace.
25% of raw materials with low climate impact
at least 25% of the raw materials used for the creation of our garments will have a low environmental impact in full respect of human rights and the people who participate in their production.
Elimination of "single use" plastic in B2C + packaging
We want to make sure that single-use plastics are eliminated and that at least 50% of the remaining plastics in B2C and B2B packaging are 100% recycled.
Our goals
Socks in recycled cotton
The 1st project linked to eco-sustainable collections with the creation of Tezenis brand socks made with the use of materials from waste and plastic sources.

Buy now
Shopping bag
Our shopping bags' paper is made of reusable and FSC certified material. However, to reduce the use of disposable products, in our stores it is now possible to buy reusable canvas shopping bags. Disposable shopping bags are still available at set prices. The proceeds will be donated to planting and reforestation projects.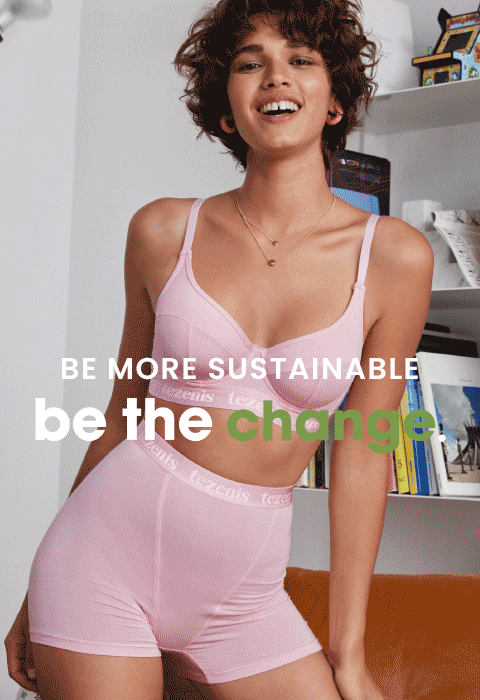 Underwear sets made with lower environmental impact fibres.

Discover more
Together for the Mediterranean Sea
Recycled Microfibre
This collection's microfibre contains a certified recycled yarn, made from the reworking of recycled plastic bottles.

Discover more
Pollinate the Planet
Together with 3Bee, we installed the exclusive system Hive Tech to remote monitor and diagnosis of hives.

Discover more
Recycled Lace
The new underwear collection made of Recycled Lace

Discover more
Reuse hangers in the store
With a view focused on environmental sustainability, in our stores we have decided to reuse our hangers, thus saving 60 million a year.